WCrabb
Australian invented Hydrawise controller gets snapped up by international.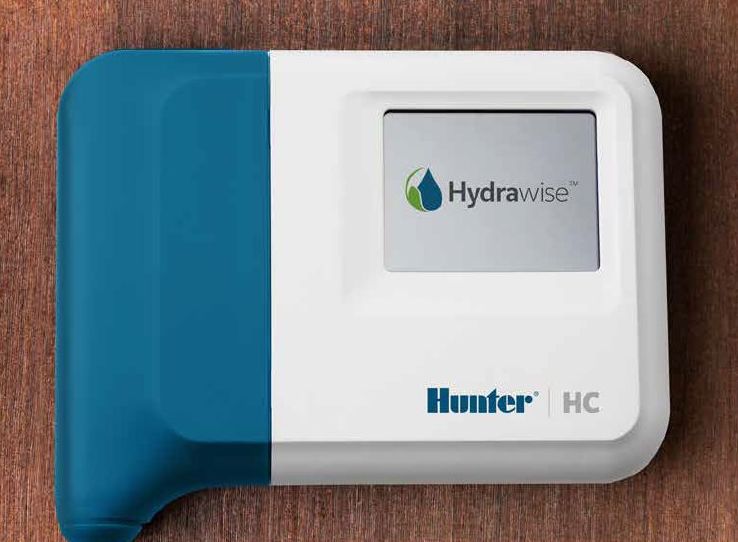 Hunter industries latest irrigation controller the Hydrawise controller which was invented in Australia is part of the new affordable smart irrigation controllers on the market today. This is a grate addition to their already vast array of smart controllers and raises the bar a little as well with its WiFi capability water saving features.
This new controller is WiFi capable to your home and can be programed and controlled with your mobile device or computer from wherever you have an internet service. It has many other features including easy programing, water watch and error alerts that are sent to you via a notification. This is a very powerful controller that if utilized will make your life if the garden a lot easier when it comes to managing your irrigation water and how you use it.
We have installed several of these Hydrawise controllers along with a flow meter and found them very easy to setup, use and manage, in fact most have been elderly people that travel a lot. One of the systems we recently installed was an addition to an existing irrigation system which was about 7-8 years old. Our customer installed a bore and we upgraded the control system and hook up the pump and filter to the irrigation system. Everything worked grate and they even went to the UK on a holiday, They were so pleased that they had this controller installed as it gave them peace of mind and control over the irrigation system while they were away. With the Hydrawise controller they could see what was happening with the tap of a finger.
All was going well until a few weeks ago and then they received some alerts about a zone that had stopped working. As a contractor we have access to the Hydrawise controller we install which is a great feature, this enables us to log on and see what is going on, in this case we could tell that it had a faulty valve and as we knew the system we could attend and fix the problem with out spending a lot of time testing for faults. As they were notified of the fault as it happened there was not apparent decline to their fantastic looking garden. We also knew what the fault was and could attend and repair promptly taking with us the right parts. Altogether it was a grate outcome for our client as their garden didn't suffer and a reduced repair bill due to knowing what the fault was.
With water being our most precious recourse it makes sense to be able to manage our irrigation water wisely and make every drop count. Call William today on 0418777003 to book your irrigation consultation.
Is the drought taking hold in your garden and not sure what to do?
What can you do to save your garden in this hot dry time? With the continuation of the dry and now joining the state wide drought it is time to look after your gardens plant so they survive. With little to no rain to help re-leave the situation your plant are struggling for survival. You can help them by focusing on how to make the best use of the water you have available to save your garden and get it through this drought. As you the plants and shrubs are the most expensive single item to replace and will take the longest to recover it is important to give them the best care possible and set them up for survival at the moment as we don't exactly know when the drought will break.
What can do to save your garden and keep it looking good? Here is my recommendation to save your garden plants.
Sacrifice your lawn by cut the water to it, this will come back as soon as we get rain it may not come back as good but with management it can be improved relatively cheaply.
Hand water your plants, shrubs and trees well to wet the root zone, to improve the water penetration add a soil wetter at the same time, 3 to 5 minutes per plant depending on size should be good.
Mulch your gardens with a good healthy covering of mulch 100 to 150mm (4 – 6 inches) to do two things keep the soil cooler and prevent evaporation.
Hand water weekly at the base of the plant to allow the water to spreed out under the mulch for about 2 to 3 minutes.
By doing these steps it will help you save water and your garden at the same time while giving you the peace of mind that you are helping to do your bit in these dry times. For further assistance and advice please contact Plant-Em Turf and Irrigation Ph 0418777003
Garden Irrigation is one area that choice can make a big difference. For most people the obvious choice is a micro spray system, other choices are sprinklers or drip irrigation systems.
Micro spray irrigation is the most common irrigation use in residential gardens, most likely due to the low cost to install and it is easy to do. Its number one draw back is high cost to maintain, the ants love them and the nozzles get blocked easily.
Sprinklers are great and with relatively low maintenance but hard to meet some of the shapes, use a reasonable amount of water and adds to the overall size and cost of the system.
The last choice is drip Irrigation and can be made to suite all sizes and shapes of gardens, highly water efficient, relatively low maintenance, long lasting. It is a bit more expensive than the others but worth considering.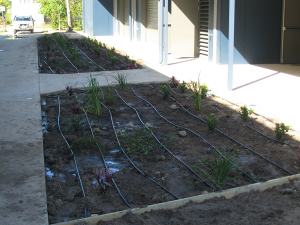 As an Irrigation specialist part of our work is repairing irrigation systems. Apart from the usual sprinkler and busted pipe repairs, we do quite a lot of maintenance on the micro spray systems, mostly nozzle cleans or replacement. Micro sprays may be cheap to install but are very high on maintenance.
We first install drip irrigation in our garden over 10 years ago. The reason is, we have our own water supply/pump and late in the year water gets scarce and needed to make every drop count. 10 years later we did our first repair is from the plants getting to big and busting the line other than that it has been hassle free to the point I have taken the micro sprays of the Citrus trees and convert them to drip now as they were a pain.
When planning your garden irrigation consider which one of these you would like to go with Low cost, high maintenance system or higher investment with lower maintenance system. Still not sure give us Plant-Em Turf and Irrigation a call on 0418777003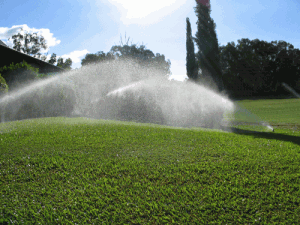 Has your irrigation system got what it takes to cope with this extended dry and keep your lawns and gardens healthy? If you think it has then here are a few tips to help you through.
Keeping your irrigation system working will save you money for several reason.
Regularly running the system help prevent premature failure.
Keeps the valves opening and closing keeps them flexible and helps stop them from sticking shut.
Helps prevent dry joints in the electronics side as they are prone to failure if they are not kept working.
Regular use helps keep the soil moist, and moist soil means less  movement and less stress on the pipes and fittings.
Less soil movement helps keep your home stable which helps ward of cracking, saving you thousands in repairs to your house.
Regularly using your irrigation system is a great preventative, we all know the old saying "if you don't use you will loose it" and the same is true for your irrigation system. Turn it on, fix it if needed, keep it running and it will save you thousands in the long run. This just like when we buy a car, we know it needs to be maintained to keep it running and safe to drive and yet we expect an irrigation system to just keep going year after year and not have to maintain it.
Are you doing what is needed so your irrigation system will meet the challenge of the extended dry and keep you lawn and gardens healthy.
For help and advise with your irrigation system call the irrigation specialists Plant-Em Turf and Irrigation on 0418777003.


Do you have sprinklers like this?
If your answer is no then great but if you answered yes then you could be heading for excess water bill.
This example is easy to see due to the poor quality grass which is not being helped by the extra water but lots of times they are not so obvious due to good grass cover which most lawns have. After all that is why you installed the automatic irrigation system in the first place.
This is not to bad I here you say compared to ……? Lets assume it is a liter per minute being conservative, the sprinkler runs for 25 minutes 25Lt 3 times a week 75Lts 50 weeks a year 3750lts or 3.7 kiloliters. Still not to bad you say. An average yard may have 20-25 sprinklers and if all the sprinklers leaked at the same rate then that would add up to 93750Lts or 93.75 Kiloliters.See the difference?
We all know the chances of all the sprinklers leaking at the same time is slim but we also know that 1Lt per minute is not much and that it cold be as high as 20LTs per minute and this a lot. You can help avoid this situation with regular checks, you can do this yourself or get an irrigation specialist in to do it for you. It is good to a quick check yourself for reassurance.
Checking your system is not that hard and will only take you about 10-15 minutes if all goes well. It is best to use the electronic controller and run each section at a time while walking around looking at each sprinkler checking for correct operation, indications of leaking around the base, correct or even spray patten and head rotation for different types of sprinklers or nozzles. Other things to look out for are excessive wet spots or dry dead spots as these usually indicate something is wrong.
While you are checking the system it is a good idea to mark the problem sprinklers or spots if any, and jot down a rough description of the problem as well for later reference. This will help you or the irrigation specialist when it comes to fixing them without having to do the whole process again. The irrigation specialist may want to run the system anyway to check for other issues and test to make sure all is working correctly.
Are you doing your bit to save your water bill. If this seams a bit to much the rather than let it continue contact an Irrigation specialist today and get them fixed.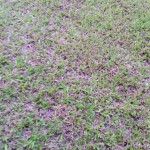 I received this photo late yesterday from a friend with the question "what is wrong with my lawn?" My guess is that you may have a similar problem so I thought I might try and help you out with possible causes and suggested fix. After asking a few questions and getting responses all via text we were able to determine the most likely outcome and make some suggestions to fix the problems.
Problem 1. The ground was had and dry. The owner had been under watering, easy mistake as this time of the year it is normally raining or having periods of rain. this usually solves the dry hard soil issues.
Problem 2. Lots of dead grass with healthy green shoots. This is a good indication that something has gone wrong some time ago. Grub attack would be my first guess. but that has passed and the grass is on the way back now.
Problem 3. Automatic irrigation. Different types of sprinklers all set to run the same, but needed to be set to run for different amounts of time.
Suggested fix. Adjust the watering times to suite the current conditions (at the moment hot and dry) so increase. Apply a good quality fertilizer (Nitrophoska and Urea) blended with an organic type fertilizer to give the lawn grass that is left a kick along.
Remember the fertilizer when applied can burn so apply in late afternoon and water in heavenly.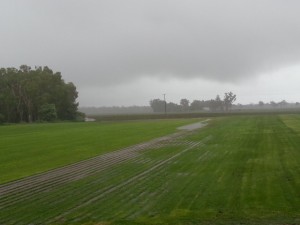 Outdoor electronic irrigation controllers  are very susceptible to water and are not repairable, when you check that the system is off close and lock the door securely this will help it stay dry.
Turning of your irrigation system when it starts to rain and by monitor it  your will save water and your plants, if you have installed a rain sensor it will do it for you.
Check that the rain sensor if installed is mounted securely, the irrigation controller is set to active and is working correctly.
If you have an above ground pump/s to supply your irrigation system then it is a good idea to turn them of and remove if possible or place them above any possible water line, cover up (remember to uncover when wind eases of), unplug and remove any temporary leads to guard against possible electric shock.
Please stay safe.
Greening the Future
William Crabb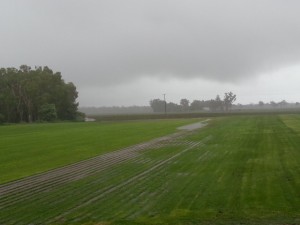 Welcome to 2014 and may this find you in good health and trust you are you enjoying the lazy days which the rain has brought and thinking ahead in to the year and considering what garden or yard improvement you will be doing this year?
When it comes to your projects the biggest mistake that people make is not planning and doing it on an impulse as I have done it as well.
Hey let's fix the fence! So I go down the shed and get all the tools and get setup. Then go to the hardware store only to find that they haven't got all the materials needed. So after a few words of wisdom I try another store for the rest of the items needed. I finally have all the items I need and head back home meanwhile a few hours later and a few extra items I get back just in time to take the kids to sport or something else. A few more hours go by it get dark so you pack it up and say to yourself well that was fun.
Who can relate to this?  I think we all can.
Why not spend a little bit of time planning to try and avoid this and get more done.
A couple of question you might ask yourself with this process:
What do I want it to look like this time next year and how am I going to get it there?
Just like planning a trip there are thing that can be done in advance to get you to the finished product with less hassle time and save you money along the way.
 Have I got the skills to do this or do I need to get a Professional?
Using a true professional usually comes with a guarantee and warranty, this might be worth considering.
 When would you like to have this done by?
Set a date and then break it down to a list and work out what has to be done first, second, third and so on through the list.
You have your list and time frame now who is going to do it?
Go through the list and select what you will be doing and what you want to get a Professional to. 
You now have a game plan to achieve that garden or yard makeover.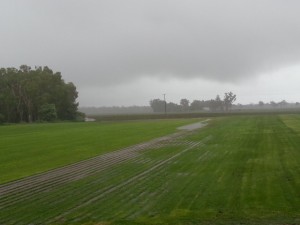 Now is a good time to applying either, Lime, Dolomite or Gypsum depending on you PH and soil test.
These products in their natural state are either stone or silt containing a form of Calcium which is also one of the six major elements required for healthy lawn and plant growth.
Lime comes from Limestone and is Calcium Carbonate with little or low Magnesium.
Dolomite comes from dolomite limestone and a source of Magnesium Oxide for soil low in both
Gypsum is a natural occurring product found or deposited in sedimentary rock in the form of hydrated calcium sulfate.  
Which product to use?
A

s a general rule Lime or Dolomite for low PH soils and Gypsum for soils with good PH range and low in Calcium.
Gypsum is recommended to be used on tight soils particularly soils high in Sodium with waterlogging, poor water penetration and crusting. The calcium from gypsum displaces the sodium which can then be leached deeper into the soil
How much do you apply?
 

For an accurate assessment a soil test is recommended and is easy to do.
From experience on our farm and as general rule I would suggest approximately 1kg per

 

2 sqm of area.
How can you apply it?
 

Weigh an amount into a bucket and measure and mark the area that this amount will cover at the recommended rate.
All of these products are fine and very dusty so be aware of the wind, you don't want it going all through the house.
Gently spread the required amount over the marked area try and spread it as even as possible
If no Rain in sight hose into lawn to stop it spreading.
Helping you green the future

Winter Lawn irrigation
The weather is now a bit cooler and to keep your lawn looking and feeling great here is few hints and tips to watch out for.
As the days are getting shorter several things are happening, the lawn growth is slowing down and water consumption is reducing. While the reduced growth will help with the mower it also means that any problem areas take a longer time to repair and detract from the appeal of your garden. Reduced water consumption means less watering which is a great time saver if you still do it with the old sprinkler and hose, but adjusting your automatic irrigation systems run times is often overlooked as it just waters (set and forget). Now excessive watering can be very harm full to lawns and plants as well as hitting you in the hip pocket and costing you Dollars $$$.
Excessive watering can lead to waterlogging which can upset the soil life, create soil imbalance and eventually kill your plants and lawn if not kept in check and can cost you three times, once for the new plants, second for soil treatment and third for excess water charge, now that is a worry. This risk can be largely reduced by monitoring and controlling when and how much water is applied through making some minor adjustments.
Automatic irrigation controllers are a good way to control the water we apply to our plants and lawn but you do need to monitor them, check and adjust them from time to time as the seasons change. When your irrigation system was installed the contractor would have left you an instruction manual on how to use the controller and make adjustments, you may need this booklet to assist you. If you are unable to locate this booklet then you may want to search the internet as the next option or call a technician. Remember well-adjusted sprinklers set to the right timing keep your lawn and plant healthy and happy while saving you time water and money $$$.
While you are in the garden checking the irrigation it would also be a good idea to check the soil moisture and plant health to ensure all is well and that your plants are still healthy. A good way to check or monitor soil wetness is to gather a handful of soil and close your hand and then release it, if it stays together and doesn't break apart then maybe it is too wet, if it crumbles with but feels moist then it could be just right. Another way is to look for lots of worms on the top of the soil, worms won't live in soil that is to wet so if there are lots living on the surface then maybe it is too wet and reducing the amount of water being applied will be good.
An Irrigation system that is regularly checked adjusted and timing set for optimum operation and water efficiency will save you time, water and money $$$
To book a Free consultation go to http://plantem.com.au/contact-us/
Get free Cash or Free Services through our Referral Program!
   10% Referral Fee for new clients only
    Redeemable for cash or services
    Valid for 1 year.
So here's how it works You refer us to a friend or neighbour we do the requested work and on receipt of payment we issues you with a Certificate for 10% of the receipt, you can redeem for cash or services or give to a friend.