Preparing for your new lawn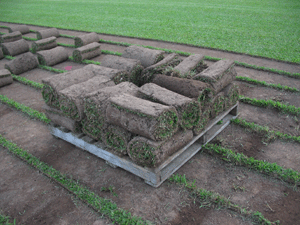 Once you have selected the site for your new lawn there are a few steps that you should take before you plant your newly purchased lawn.
Measure up the area to be turfed, length by width. As most areas aren't a neatly laid out rectangle, you may require several measurements to accurately work out the quantity of turf required.  (Check out the handy calculator)
Order turf in advance. This allows for selection of the best product and having fresh product arrive after you have done the site clean is ideal.
Prepare the site.  Best practice is to have firm bare earth, smooth and free of weeds and grass.
Loosen the top few cm's of soil and apply fertilizer and Gypsum or Dolomite evenly to the area to be planted.
Question: Which fertilizer should I use?  There are a number of  Fertilizers available to use  in Nth QLD and the one for you would depend on the soil type and condition.

Light poorly drained soil

:  I recommend Dynamic Lifter at (approx. 1kg /100m2) or  Nitrophoska Blue Special at (1Kg /100m2) from Insertec and Gypsum at (10 Kgs /100m2).

Dark well drained soil

: I recommend Nitrophoska Blue Special at (1Kg /100m2) from Insertec and Dolomite at (10 Kgs/100 m2) or CK 88 form Insertec at (2 Kgs /100 m2) and Dolomite at (10 Kgs/100m2)
Repeat fertilizer applications 3 to 4 times per year (May, September and December )and Gypsum or Dolomite once per year (January, February).
Hint to improve fertilizer results combine both the chemical fertilizer with an organic compound e.g. dynamic lifter, humates. This give you a longer response to each fertilizing.

Rake soil to mix fertilizer into the top 2 to 3cm of the soil before planting the lawn.
Lay turf on top and water in thoroughly by hand.  This should be a hard watering….under pressure, applied with a nozzle on stream to wash the dirt of the leaves of the turf..
CONSECUTIVE WATERINGS
For best results these should be done in the  evening and the morning for 10 to 14 days after planting and should also include 1-2 watering's around midday as well (10.30am, 2.30pm).  Can be done with a sprinkler or by hand.
FIRST MOW
For best results the first mowing should be at 10 to 14 days after planting or when dry enough to mow.  With new blades on the mower set at a moderate height as to not scalp the lawn,  in other words just trim the top to make it look good.  After the first mowing, mow at regular intervals to keep your lawn looking good.
PLANTING PIECES OF LAWN
Follow the above steps except for mowing.   This should be done about 4 to 6 weeks later, when the clumps of lawn have runners out from them.  Have new or sharp blades on the mower and set as low as possible when mowing.  Once mowed for the first time, it needs mowing regularly from then on to encourage runner growth not height, to achieve a good cover of lawn.  This could take 2 to 4 months.
If you have any problems with any of these steps, please contact us.